It's frustrating. Have you noticed how varied the California online court index databases are? There are a half dozen different search interfaces and none of the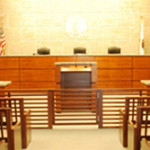 search query functions are the same. And because of this you may have missed cases.
Let's talk technique. If a search field is "first name" you would generally enter the person's first name. But what if you only know part of it?
Most counties in California that have an online case index only have it for civil cases. Some that have civil and criminal records split them into separate databases which, of course, function differently. The San Joaquin County court is a good example. The civil case inquiry "participant name" selection requires a full (exact, not truncated) last name but no first name. It also works with a partial first name. The "business" selection supports partial entity name search. "Din" returns "Dine", "Dino", "Dinesh", etc. But, you ask, what if the "din" appears somewhere in the string but not at the beginning? Use the query form: %din. This returns "Midland Funding", "Dolan Building Materials", etc.
The San Joaquin County Family Law, Criminal and Traffic Case Inquiries screen looks and functions entirely differently. There is one field for the name. Enter "din" and get "Reading" and "Balandin", among other variations. It also returns results where "din" is in the first name. That's nice. [UPDATE: May 2015. Name only searches are not available anymore for Family Law and Criminal cases.]
Here's a synopsis of how you can structure your partial name queries at other county court sites.
Siskiyou: You can do a partial name search even though the site tells you, "Do not use punctuation or special characters when searching." A partial last name search, where "din" appears somewhere in the string: %din. A partial last name and first name search can be done alone or together. The percent symbol isn't necessary.
Solano: Solano County uses the CourtConnect program. Select "Check for Partial Last Name" to search that string from the beginning of the name. A partial first name can be included. Narrow your search with the "Case Type" feature.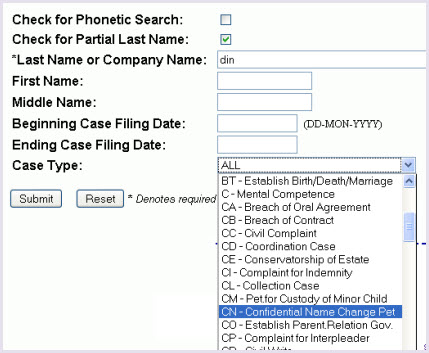 Stanislaus: A partial last name search, where "din" appears somewhere in the string: %din. A partial last name search can include a full or partial first name. A percent sign can be added to a first name string and combined with a last name string. First name "%bin with last name "%air" returns the records for "Robin Adair". If your result is an active traffic case, select the link "Click Here to pay this citation online" to verify the date of birth.
Shasta: You can perform a partial name search but then you have to guess the year of filing. Ugh. [UPDATE: May 2015. No partial name searches since they changed the interface. But you don't have to specify a year!]
San Francisco: Enter the search as %den to find first and last names and company names with the designated letters somewhere in the search result.
Contra Costa: The "Open Access" system can be searched by partial last name. Last name "Jon%" returns any string beginning with those letters and "%Jon" will return that string within the last name. Add a first name or initial to limit the results.
Find direct links to each court index at SearchSystems.net.
A few counties have images of case filings online. But even those counties don't have all images for any one case or for all cases on their website. Most of those that do, link to the pdf of the case document right from the docket. Sacramento County has made that process more complicated. [UPDATE: May 2015. Name searches now incur a fee. Only a lookup by case number is free.]
Then there are the counties that charge for everything from a name lookup to document retrieval. Can I hear some outrage?