Illinois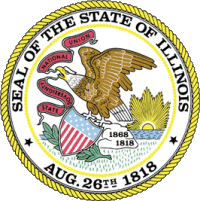 This is a directory of links to Illinois state, county and municipal government salary and employee name databases. These searchable databases of government salaries, pay, overtime and compensation of government workers are compiled by news organizations, consumer watchdog organizations, open government advocates and government agencies. These are helpful to private investigators and judgment collectors to find place of employment and locate assets. Look up salaries and employees' names.
State of Illinois Telephone Directory – Search By Name
State of Illinois Transparency & Accountability Portal, search by employee name, 2008-2015 (gov site)
Find the Salary of A State Employee
State of Illinois Comptroller Transparency Ledger, vendors cross referenced with campaign donors database, 2010-2016 (government site)
State of Illinois Transparency & Accountability Portal, search by vendor and sales tax registration certificate revocations, 2009-2012 (gov site)
Illinois State Payroll Reports, 2008 and 2009
Illinois educational institutions salary lists 2008-2009
Illinois State Payroll Database, 2014
Illinois State Employee Salaries, 2008, State employee salaries, 2009, 2010, 2014 salaries
State of Illinois payroll database, 2008
Illinois Pension Database
Pension Staff Salary Database
Illinois Corrections Salaries and Overtime
Illinois Workers Compensation claims and state active and retired employees
Illinois Board of Higher Education, Public University Administrator and Faculty Salary Database, 2010-2012
Teacher Salary Database, 1999-2012
University of Illinois System salaries
University of Illinois salaries: Champaign-Urbana, Chicago and Springfield, 2009-2014
University of Illinois at Chicago, 2010
University of Illinois at Springfield, 2010
SIU School of Medicine employees
Search the Better Government Association database of employees in these government agencies:
• City of Chicago
• Cook County
• Cook County Forest Preserve District
• Metropolitan Pier & Exposition Authority
• Chicago Housing Authority
• Chicago Transit Authority
• Metropolitan Water Reclamation District
• Chicago Park District
• Chicago Public Schools
• City Colleges of Chicago
• State of Illinois
State of Illinois, St. Clair, Clinton, Monroe and Madison counties, Madison County Transit, St. Clair County Transit, the municipalities of Alorton, Belleville, Breese, Cahokia, Caseyville, Collinsville, Columbia, Dupo, Edwardsville, Fairmont City, Fairview Heights, Freeburg, Germantown, Glen Carbon, Granite City, Lebanon, Madison, Marissa, Maryville, Mascoutah, Millstadt, New Athens, New Baden, O'Fallon, Sauget, Shiloh, Smithton, Swansea, Trenton, Troy and Waterloo. Utilities include Metro East Sanitary District, Fountain Water Dist., Mitchell Water Dist., Prairie du Pont Public Water District and Tri-Township Water Dist. School districts are Belle Valley, Belleville, Brooklyn, Central, Cahokia, Freeburg, High Mount, Mascoutah, O'Fallon, Shiloh Village, Signal Hill, Whiteside, Wolf Branch.
Schools include Southern Illinois University Edwardsville, retirees of Southern Illinois University Carbondale, Southwestern Illinois College, State Community College and its successor Metropolitan Community College, Belle Valley District 119, Belleville District 118, Belleville High District 201, Brooklyn School District 188, Cahokia District 187, Central District 104, Collinsville District 10, Columbia District 4, Dupo School District 196, East St. Louis District 189, Edwardsville School District 7, Freeburg School District 70, Freeburg High School District 77, Granite City District 9, Grant-Illini School District 110, Harmony District 175, High Mount District 116, Holliday District 105, Lebanon District 9, Madison District 12, Marissa District 40, Mascoutah School District 19, Millstadt District 160, O'Fallon District 90, O'Fallon High District 203, Shiloh District 85, Signal Hill District 181, Smithton District 130, Triad District 2, Waterloo School District 5, Wesclin District 3, Whiteside District 115 and Wolf Branch District 113.
Local townships payrolls include Alton, Belleville, Canteen, Caseyville, Centreville, Collinsville, Edwardsville, Fort Russell, Foster, Freeburg, Granite City, Godfrey, Hamel, Helvetia, Jarvis, Lebanon, Lenzburg, Leef, Mascoutah, New Athens, New Douglas, O'Fallon, Olive, Omphghent, Pin Oak, Prairie Du Long, Saline, Shiloh Valley, Stites, Stookey, Sugarloaf, St. Clair, St. Jacob, Smithton, Venice and Wood River townships.
Normal-based McLean County Unit 5 school district and the Bloomington-based District 87 Teacher and Administrator Salaries
Alsip Village Compensation Report, 2012-2013
Alton city employee pay
Auburn School District employee salaries
Ball-Chatham school employees
Batavia town employee compensation
Batavia School District staff directory
Batavia School District teacher position and salary
Belleville city employee payroll
Bensenville District 2 employee directory
Bensenville Payroll, 2016
Bloomington Compensation Reports
Bloomington Employee Salaries, 2007-2008
Buffalo Grove employee directory
Cary employee directory
City of Chicago employees, Current Employee Names, Salaries, and Position Titles and download Chicago employees list here
City of Chicago Water Management salaries
City of Chicago employees on March 24, 2009
Chicago Alderman salaries, 2008-2012
Chicago Public Schools salary list, 2009
Cicero – J S Morton High School District 201 Compensation Report, 2014-2015
Clinton County and cities worker salaries
Collinsville city payroll
Cook County Employees (government site)
Columbia employee directory
Crete-Monee School District employee directory
Decatur city, schools and park district payroll
Des Plaines Compensation Report
Village of Downers Grove Employee Salary History, 2009-2013
DuPage County, Forest Preserve District payroll and vendors (government site)
Edwardsville area school salary database
Edwardsville employee pay
Elgin Payroll Reports, 2008-2014
Evanston government employee pay, 2005-2013 (government site)
Evanston government employee pay
Geneva Compensation Report
Granite City employees
Hawthorn Woods employee directory
Highland Park employee directory
Hoffman Estates Village, compensation and benefits, employee names, 2011-2015; Staff Directory
Jacksonville School District salaries
City of Joliet financial reports, employee payroll and vendors, 2007-2009
Kane County salaries (pdf)
Kane County employee compensation report, 2008-2015
Kewanee employees, 2012
Lemont Public Library District salaries, 2012
Libertyville employee directory
Lincoln Land Community College salaries, 2010
Lincoln Community High School employees
Lombard employee directory
Macon County payroll
Macoupin County checkbook (review summaries for find employees and salaries)
Madison County and cities worker salaries
Marengo Community High School payroll, 2014
McLean County Employee Salaries
Metro transit agency employee payroll
Midlothian employee directory
Moline employee directory
Monroe County and cities worker salaries
Montgomery employee directory
Mount Prospect River Trails School District 26 Compensation Report, 2012-2013
Mundelein School District 75 employee directory
Naperville Employee Earnings Reports, 2010-2014
New Berlin School District employees
Normal employee compensation, 2012 (government site)
Normal Employee Salaries, 2007-2008
Normal employee directory
Oak Lawn Village employee compensation
Oak Park Elementary School District 97 Compensation Report, 2012-2013
O'Fallon city pay
Village of Orland Park salaries & benefits, 2006-2010
Palos School District 118 employee directory
Peoria employee compensation, 2008-2013 (government site)
Palatine, Township High School District, "Statement of Affairs," gross salaries (government site)
Peru Vendors
Plainfield school employee compensation report
Pleasant Plains School District employees
Pontiac employee directory
Quincy employees and wage report, 2010
Richland Community College payroll
Riverton School District employees
Rochester school employees
Rockford city employees compensation reports (government site)
and download 2013
Rockford Public Schools salaries, download compensation reports
Rock Island employee directory
Sangamon County employee salaries, 2011
Smithton village and townships of Leef, Saline and Freeburg worker salaries, 2011-2016
Southern Illinois University Faculty and Staff Salaries, 2014
Springfield city employees, Springfield city employees, 2010-2014 (government site)
Springfield school employees
Springfield Water, Light and Power
St. Charles Compensation Reports
St. Clair County Payroll
Taylorville School District employees
Union County proposed salaries, 2013
Urbana employee compensation (government site)
Williamsville School District employees
Woodridge Employee Salaries
If you know of or you're looking for a database or list of employees that isn't here it doesn't mean it's not out there. Ask me and I'll look for it and add it to PI buzz. There are so many government agency directories and salary lists that I can't keep up with adding them as quickly as they proliferate.