Finding people on social networks and their other Internet footprints is part technical knowledge, but moreso it demands creative intelligence, because the Internet is not a structured library catalog. It's also a time sucker, right? And some tedium. Like opening up all those Facebook posts so you can print the entire page. How many social networks should you individually review; when should you just turn to Google or Bing to point to leads? And then there are aggregators that accrete email addresses, profiles and links to social media pages. Other professionals who use the Internet to find people have developed applications that bring the profiles to the researcher. Companies that need to hire specialized talent are scouring the Internet and there are "sourcers" who do just that. So, they're hunting in the same field as investigators and have distributed free tools that help with our work too and might get you thinking more broadly about how to find that witness and all the nasty things they must be saying about your client.
Connect6 is a Chrome only application that associates an email address with a profile. Search an email address in Google or find one in search results. An 6º icon appears after email addresses where a profile has been

located. Hover over the 6º icon and a sidebar with the profile and social connections is displayed. Compose an email in Gmail, you'll see the same information. The profile photo may be current or historical and the Linkedin or Facebook photo may each differ, as well as the Google+ one. Sometimes no social account is found; possibly it's not registered with that email or 6º hasn't added it to their database.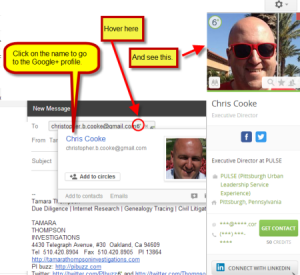 Connect6 also has a website database of social media profiles with search fields to tailor your queries by name, location, social media source and employer. That may also return new profiles and photos.
This is the Gmail search by email address.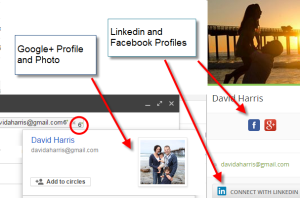 And this is the name search in the website database.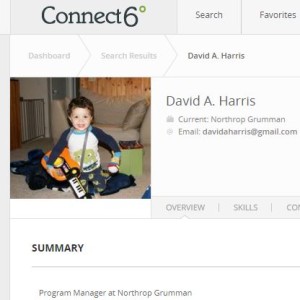 Rapportive (now a Linkedin product) is a Gmail plug-in that displays a fuller Linkedin profile (but no other social networks) within Gmail. I use it in the Firefox browser so it doesn't conflict with the other people discovery programs. Open a compose window in Gmail, enter an email (or multiple email addresses) and the sidebar will display a Linkedin profile when there is an email match, even if 6º doesn't. Likewise, it shows the Google+ photo and link. I wrote about this and more in the post Find People On Social Networks By Email.
Other social discovery tools may return different content, links and photos. 3Sourcing is a Chrome extension that draws content from social media profiles, with a focus on the technical sector. Falcon.io dynamically searches the Internet for social network profiles. Other tools, 360Social and Vibe function similarly.
Notes of caution: You have to be in anonymous mode in Linkedin when you hover over a profile, if you don't want your identity to be revealed. Also, the Terms of Service for some tools may permit access to your address book. If you install multiple plug-ins, temporarily disable all except one to avoid conflicts in the sidebar.
Boolean search phrases within the Google search engine or specific social network search engines are generally more effective in finding a profile. That's for another post. But these people discovery tools supplement your information gathering.
Summary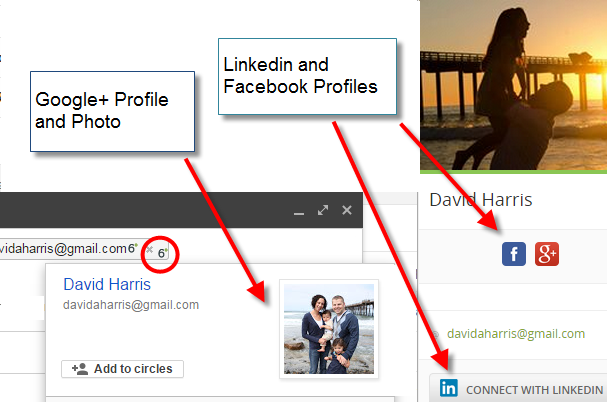 Article Name
Social Network Aggregators
Description
Finding people on social networks through social media aggregators - Connect6, 360Social, Falcon and Vibe.