TLO now owns Merlindata through the acquisition of another company that had recently purchased the public records data provider, in business since 1991 and much relied on by California private investigators.
Merlindata customers will now become TLO customers with access to the same data, albeit with a different interface and website. The California public records from Merlindata are not integrated into the people search and comprehensive reports in TLO but are a stand-alone product that incurs per-search fees on par with the other TLO offerings.
Merlindata customers who have an annual fee contract can continue on the same terms with a new TLO negotiated contract, but they will be charged monthly, not annually, as subscribers to Merlindata were.
TLO doesn't offer an unlimited search option for access to their menu of searches. TLO's "flaterate" is a reduced cost on the transactional fee. This reduced cost is available for accounts with at least 200 searches per month. In this arrangement, the subscriber might pay $.60 for each search rather than $1.00. The "flaterate" contract includes the TLO data and the newly acquired Merlindata California databases. However, they are not integrated and must be separately searched.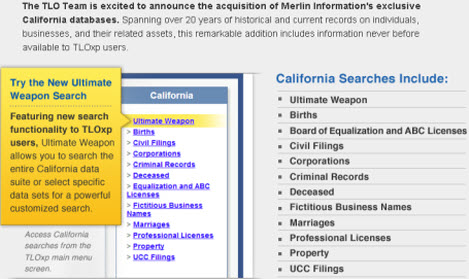 The Merlindata site now directs subscribers to transfer their account to TLO or to open an account if they're not already a Merlin user.
IRBSearch, a reseller of the LexisNexis Accurint data, which is very similar to TLO's, has undoubtedly taken a financial hit due to the low-cost pricing of TLO. This is the new favorite among private investigators. Hopefully that won't lull investigators into relying on one online public records data source — which may become difficult to avoid if other companies' products are out of reach because of pricing or restricted access to private investigators.