Last week, Terry Towery and I presented, "Using Technology in Investigation, including Social Networking Websites" at the Capital Case Defense Penalty Seminar. I spent a good amount of time talking about finding people on Facebook, even if they have a common name. However, in the discussion on Facebook settings, I cited this misleading statement from Facebook:
Certain categories of information such as your name, profile photo, list of friends and pages you are a fan of, gender, geographic region, and networks you belong to are considered publicly available to everyone, including Facebook-enhanced applications, and therefore do not have privacy settings.
"Publicly available to everyone" and "do not have privacy settings" suggest that you do not have the option to hide your "friends" list. Not true! Since just about everything Facebook is annoying, this setting detail is not out of character. You won't find it in the complicated privacy settings section.
In the top right corner of your Facebook page you'll find "Profile" squished between "Home" and "Account". After selecting "Profile", scroll to the "Friends" box in the left sidebar. Just above the phrase "See All" is a pencil. Clicking that will open up an edit box, demonstrated in this image.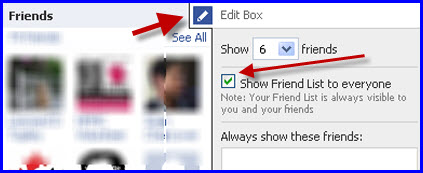 Uncheck "Show Friend List to everyone". Now your friends are visible to each other but not to the general public. If you wanted to inform the world that Dashiell Hammett is your friend, you could make an exception by entering his name in the "Always show these friends" box.