Archive for the 'Personal Data' Category
Alaska is purported to have instituted one of the strongest identity theft protection laws through HB 25.
Although the bill sets out restrictions on the collection, sale and distribution to third parties of Social Security numbers, the exceptions should cover the normal course of business for private investigators.
A transfer of an individual's social security number for the sole purpose of identifying a person about whom a report or database check is ordered, received, or provided is not a sale, lease, loan, trade, or rental of a social security number under this section.
Providing your clients an individual's social security number is permitted if the purpose is regulated by the Gramm-Leach-Bliley Financial Modernization Act or by the Fair Credit Reporting Act. Disclosure is permissible if it's "for a background check on the individual, identity verification, fraud prevention, medical treatment, law enforcement or other government purposes, or the individual's employment, including employment benefits."
Also, the police department may create a database of identity theft victims. If it does, it "shall provide a victim or the victim's authorized representative access to a data base established under this section to establish that the individual has been a victim of identity theft. Access to the a data base established under this section is limited to criminal justice agencies, victims of identity theft, and individuals and agencies authorized by the victims."
The FTC reached an agreement on Wednesday for $600,000 in settlements and judgments against several private investigators others involved in the Hewlett-Packard Co. boardroom scandal.
The FTC settlement imposed a $67,000 penalty against Matthew DePante, his father, Joseph DePante, and their now-defunct company, Action Research Group Inc., which was based in Clearwater, Fla. All but $3,000 was suspended due to their inability to pay.
The U.S. District Court for the Middle District of Florida, Orlando division, also entered default judgments against DePante's subcontractors, Bryan Wagner, who must pay $428,085, and Cassandra Selvage and her company, Eye in the Sky Investigations Inc., who must pay $110,762.
More details on this topic can be found at the FTC website as well as other published articles. You can read the actual FTC complaints here.
What are your comments on this topic?
Jimmie Mesis, Editor-in-Chief
PI Magazine
Impersonating someone to a government agency or hiring another to carry out this ruse could result in a criminal prosecution.
The operators of BNT Investigations, which was not licensed in Washington state, where they were based, plead guilty to crimes that carry a minimum 2-year sentence. They "assumed the individuals' identities and persuaded government agencies such as the Internal Revenue Service, the Social Security Administration and state labor departments to hand over tax, wage and other confidential records." Private investigators from various states who submitted personally identifying information to the firm were also indicted and are still awaiting trial.
Private investigators, insurance companies and attorneys who hire others obtain personal information should confirm that they do not get unauthorized personal information from a government agency. Other laws invoke penalties for using subterfuge (not necessarily impersonating the subject) to secure telephone records from the provider or financial information from banks and account holders. Our clients don't necessarily know this. It's our job to educate them.
The online telephone directory, 411.com isn't just for finding listed telephone numbers. Use it to identify current employment or to expand the employment history profile of your subject. A search on my name in California returned 40 results. Some are home listings, but other records are work contacts. These are extracted from the Internet – Web pages and Zoominfo – and may supplement the business associations found at various other people finder sites.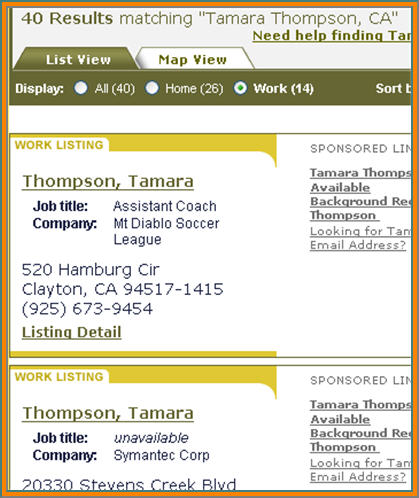 Google the work designation "Mt Diablo Soccer League" to find a photo, phone number and email for this Tamara Thompson.
Most of the free lookup, fee-based people finder sites – PeopleFinders, Voompeople, Privateeye, to name a few, – contain the same data, although those may list corporation and DBA records not found at 411.com.
The recent proposal by the governor of Connecticut requiring that these sites offer a blanket opt-out to residents likely won't get legal traction. The Internet people finder databases and telephone directories already have opt-out procedures, and their information is gathered from government public records and published directories. Governor Rell has stated that this measure would address safety concerns for the elderly, who are often targeted in financial scams.