If enacted as proposed, a provision in the federal 2014 Budget would eliminate most public access to the Death Master File, also known as the Social Security Death Index (SSDI). The United States Department of the Treasury is recommending a significant change to the SSDI that would "restrict immediate access to the DMF to those users who legitimately need the information for fraud prevention purposes and to delay the release of the DMF for three years to all other users."
The full but short Treasury proposal (page 203):
RESTRICT ACCESS TO THE DEATH MASTER FILE (DMF)

Current Law

The DMF is a list of deceased individuals maintained by the Social Security Administration (SSA) that is updated weekly. SSA created the DMF in response to a 1980 consent judgment that requires SSA to provide certain personally identifiable information about deceased individuals under the Freedom of Information Act. The DMF contains the full name, Social Security number (SSN), date of birth, date of death, and the county, state, and zip code of the last address on record for decedents. This information is publicly available and, pursuant to the consent judgment, released weekly by SSA, and many websites publish the information included on the DMF free or for a nominal fee.

Some DMF users need immediate access to the DMF for fraud prevention purposes, such as pension administrators who use DMF data to terminate payments. Others use the information for purposes that are not time -sensitive, such as genealogy research. A third group, however, uses the DMF for illegitimate purposes, including identity thieves who use the DMF to steal the names and SSNs of recent decedents, which information identity thieves then use to file fraudulent tax returns.

Reasons for Change

Refund-fraud related identity theft has grown exponentially in recent years. Fraudulent tax returns using a decedent's identifying information are difficult to detect before improper refunds are paid, because the Internal Revenue Service may not discover that identity theft has occurred until a surviving family member files an income tax return claiming the decedent as a dependent or files the decedent's final income tax return.

Restricting immediate access to those users with a legitimate fraud prevention purpose while delaying the release for other users protects the privacy interests of decedents, reduces opportunities for identity theft, and restricts information sources used to file fraudulent tax returns while still making the information on the DMF available to users who have a legitimate need for the information.

Proposal

The proposal would restrict immediate access to the DMF to those users who legitimately need the information for fraud prevention purposes and to delay the release of the DMF for three years to all other users.

The proposal would be effective upon enactment.
Will you "Like" it, if you don't and share it with your social networks?

A strange thing happened on the way to (once again) reviewing the search engine functions at Linkedin.com. First, when Linkedin introduced the feature "Skills and Expertise" I was put off, and even deleted them! I much prefer the personal recommendations. Those actually give you information that may help in making an informed decision. But, you can't outrun fate so, I just ignored it. Since I get endorsements, many from people I don't know, I began to get curious about any advantage they may have. Well, after review, I can report that the "endorsed for" feature is useless.
Whether you search from a general search engine or within Linkedin you will not be able to leverage that part of a profile. Say, I want potential clients to find me with a search query: "endorsed for" "private investigations" near a particular zip code. The only way those terms will appear is if they are in the "Background" portion of your profile — findable by searching in the "keywords" box in the advanced tool.
Even the stock categories of skills at the Linkedin Skills page doesn't give you the minimal option of tailoring it to geographic region — although there is a graph from which you can select one. But to make matters worse, all the individuals endorsed for a specialty do not appear in the results and even among the profiles listed all the geographic regions aren't represented in the graph!
Then again, maybe you don't want to be associated with Linkedin's title for your endorsed skill category.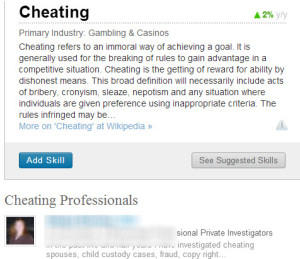 You can find keywords in status updates through the Linkedin tool, Signal, but this just searches words in status updates and doesn't support phrase searching. The word "Endorsed" returns a result for someone who doesn't want to be.

Did I miss anything? Signed, Not Buying It.
The rest of my favorite links are here.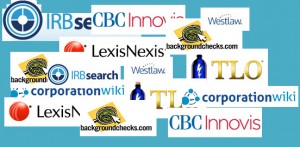 Did you know that a "comprehensive" or "people search" profile that aggregates public records does not return all available records, even if that record is in the database? Let's look at Secretary of State corporation records that are sold by professional database companies.
You obtain a profile report on an individual that incorporates criminal records, court judgments, real property owned, corporations in which they are an officer and other public records. You notice that a corporation that should be there isn't. (This has to happen only once for you to be reminded that the proprietary databases are just a starting point!)
Here are some corporation data finding hints:
- An aggregated comprehensive report on an individual will not return all the corporations in which the subject is an officer, just those linked to addresses in her or his credit header.
- You must search within the corporation database to get the most corporate records that the provider has obtained with the subject's name as an officer, regardless of address.
- Corporation databases are not current. I mean, in some cases, really not current, and the coverage dates vary from state to state and from one database provider to another. Ask your service to provide you the frequency of their updates (if they will). Westlaw updates weekly or monthly, except for Delaware and West Virginia. LexisNexis may have more historical filings.
- TLO and Accurint, for example, do not return the same results searching by company name (i.e. "Mark Capital" – one service could return a list that includes "Mark Capital Strategies" and the other with that plus "Mark Capital Investors" and "Mark Capital Investors II", etc.)
- There is great variability from state to state in the fields of data indexed. Some states only provide Agent for Service -Delaware, is a significant one since many corporations are registered here- and not other officers or Directors.
- Databases have errors. Your subject's name could be misspelled or abbreviated.
What's a due diligence researcher to do?
- Check online Secretary of State corporate entity databases. Some are searchable by officer name. And the records here are likely more current than those in the proprietary services. Find the free government sites through this public records directory. However, the online corporation indexes are limited too; many do not list all categories of officers.
- Search the online Secretary of State site in states where the individual might have their business operation, not just where they live.
- The Delaware corporate records only include an Agent for Service, which isn't very helpful since most of the registrants don't conduct business or live in Delaware. Your subject company may have registrations in multiple states and those may list officer names.
- Identify names and addresses of all possible business partners and search those in the aggregated corporation databases and the online SOS sites.
- Call the SOS. They may have search flexibility beyond the functionality of their website.
- Conduct a web search for the subject with other identifiers that are likely to lead to unknown corporate names. Try this free site that searches multiple states and shows some of these linkages (Search officer name from Google using the site: command.).
What are your corporation database discoveries?
Check out the results from these search queries to get a sense of the dynamics of Internet search in retrieving known information about your subject from search engines. We know that the same query on Google web, news and archive news products will return different links. But also, even if your query phrases are in the text of a result, that link won't necessarily be returned. I started a Google web search with the phrase "securities dealers" and one link caught my eye, a 1963 news report that mentioned "Harry N. Geisler," so I made him my subject and did a reverse search to see if I could retrieve the same news report. You can identify relevant terms from the story to tailor your search.
The name Harry N. Geisler from the St. Petersburg Times is buried deep in the report. If you web search "Harry N. Geisler" you won't get this article.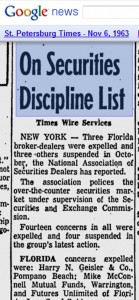 A web search with the combination: "National Association of Securities Dealers" "florida" "geisler" shows over 1600 entries. The first result is a Florida paper with his 1993 obituary, which doesn't mention the securities disciplinary action. There's no mention of our subject in the next 100 links. But a Google news archive search results in one relevant hit, a New York Times article, which names him as Harvey, not Harry Geisler. The mention of Geisler is on page 48, which you only find by scrolling through the article.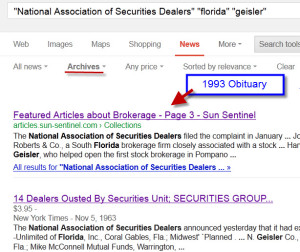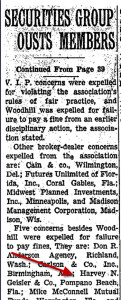 Then, searching "harvey n geisler" in Google web will get you to an SEC report on the disciplinary action.
But then there's more. When you conduct the same search in Google news archive a result points to another way to form the name: "HN Geisler", and to continue your digging.
[If you "Like" or + it, share with your favorite service!]
The rest of my favorite links are here.