I have endeavored to compile links to all of the databases of government employees with names and salaries hosted by online newspapers, consumer watchdog organizations and government agencies. on the PI buzz page Government Employees.
In the past few years, general circulation newspapers have furthered the cause of government transparency by providing searchable databases of government employees and their salaries. Although these are federal, state, county and municipal government public records the corresponding government agencies may not have made these available at their websites. Government agency sites sometimes post a staff list or employee directory — not salaries — with name, telephone number and email. Often, school districts don't list staff beyond those in the top level administration, but school sites that have their own Web pages may have a staff and faculty directory with names of administrators and teachers. An example of a very flexible school staff and teacher directory is hosted by the Ventura County Office of Education. Search by district, school or employee last name to find the district, school site, job title and phone number (Internet Explorer, only).
The disadvantage of the separate databases is you have to know which one to search in order to verify a place of employment. The Bay Area News Group continues to amass the payroll for California state, court and local workers in its aggregated Public Employees Salary database. The most recent data is from 2012 and includes about a dozen northern California counties and four southern California ones. It also has state, university and judicial employees. This is one of the few government employees and salary databases that incorporates multiple jurisdictions. Many state governments have developed online transparency sites of the annual budget and payroll, including names of workers. I've organized all the links by state. Only sites and documents that have employee names are linked to.
UPDATE: The free bankruptcy search that I previously mentioned in this post has been discontinued, therefore I deleted the post. The best, most complete source for bankruptcy case searches by name or Social Security number is the one operated by the federal courts. PACER is a low cost service, an online index and document repository of all cases in participating courts.
Visit this federal government site for a glossary of bankruptcy terms.
It's not a plane or real property but it's an asset of value that someone lives in and holds title to. No, not a car. Real property ownership records, including deeds, titles and other related financial instruments, are filed with the county Recorder where the building is located. Personal vehicles are registered by a division of the state government that issues vehicle license plates. California residences that are a "limited-equity housing cooperative" have no recorded title or deed in the name of the individual. The occupants purchase shares in the corporation, an asset which they can sell.
The California Department of Housing and Community Development, Registration and Titling Program records ownership of and the security interest in a "manufactured home, mobilehome, commercial modular(s), floating home, or truck camper." Units at a mobile home park may be rented or owned. The land on which the mobile home park is situated may have a single owner, which is sometimes the developer. Each manufactured home is individually owned. Search a database that shows names of people who have lived at that address to identify a possible owner. Or perform the same search with a name if you're looking for that person's assets and their addresses. Check to see if any of the places they have lived are in a mobile home park. A real property search won't show the owner of a manufactured home but with the address you can identify the owner.
A title for a manufactured home can be ordered online but first call the Titling Program to get the decal number. They can also confirm ownership and report any loan defaults, outstanding registration fee amounts, lien holder and value at the time of manufacture.
Formal disciplinary actions against a California Emergency Medical Technician are now be available as a public record, thanks to AB 2917, which was signed in to law in 2008.
The Emergency Medical Services Personnel Directory Lookup/Verification provides the public with certification and licence status and type of EMT's, specified by Section 1797.117 of the Health and Safety Code.
The legislation details the personal information that is a public record, which is similar to that available on other California professional licensees.
The information made available to the public through the centralized registry system shall include all of the following data elements: the full name of every individual who has been issued an EMT-I or EMT-II certificate or EMT-P license, the name of the entity that issued the certificate or license, the certificate or license number, the date of issuance of the license or certificate, and the license or certificate status.
Search the New Mexico Driving While Under the Influence Database of convictions that have been reported to the Dept. of Motor Vehicles. Records are available from 2001 to the present and are searchable by partial last name, returning year of birth and date of conviction.
[UPDATE: This database seems to have been incorporated into the NM Courts online criminal records search.] Some newspapers have names of DWI arrests. The Albuquerque Journal also plots them on a crime map.
Someone asked me if there was a way to start with a facial image photo and connect it to an identity and name. Suppose you were searching for a person on a dating site and wanted to corroborate the information there with what's reported elsewhere, and to find their actual name. You can find your subject on the dating website by the profile characteristics or a user name. His or her user name, photo and location are displayed even if you don't have an account.

Sign up for a free account to get the most details.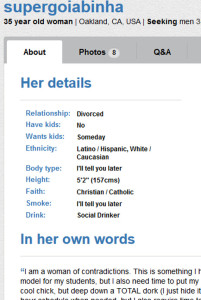 Enlarge the thumbnail photo by replacing the term "sthumbnails" in the URL with the word "pictures." Upload that photo to Google images to find linkages to other websites. One of these lead to an activities website.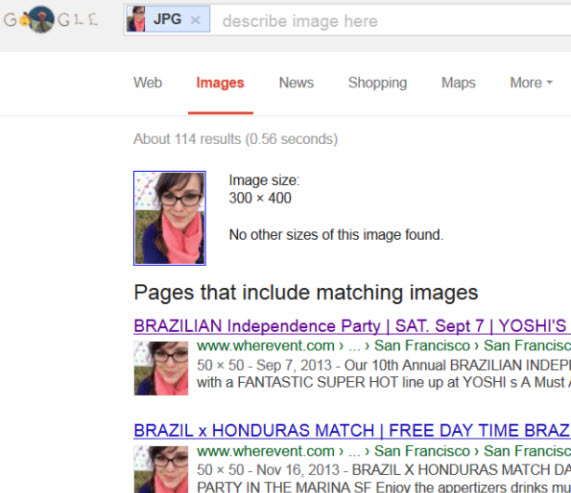 That had the subject's Facebook page link. I went there and got her name.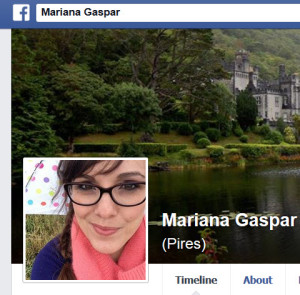 The dating site registrant user name (and now her real name, too) can also be inserted into the search bar at a search engine to locate additional sites or ones where the photo may not have been used. Or if you're starting with a user name, you can search by that keyword to get to the dating site profile.