Archive for the 'Web tools' Category
The rest of my favorite links are here.
Craigslist has added a mapping feature that plots the location and displays a popup box of the listings you've searched. Query terms that appear within Craigslist housing offerings and view the location on a map. You can search by any term that appears in the ad, or by town, street or zip code to identify all the housing in the area. This image shows the listing I searched by telephone number. The mapping feature was also displayed in New York for items for sale, personals and community.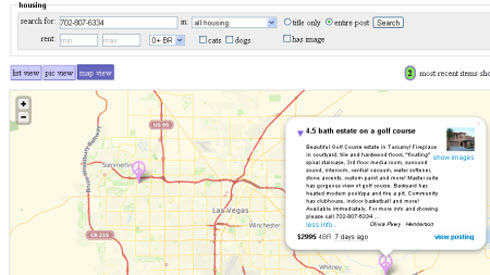 An easy way to send your Facebook page posts (or anyone else's) to your other social media sites is to create an RSS feed and subscribe to it in Google Reader. You know why Facebook doesn't make this easy for you, right? Okay, here's a simple work-around.
Go to the "Subscribe" button in Google Reader and enter this string, but don't click "Add" yet:
http://www.facebook.com/feeds/page.php?format=rss20&id=
Add the page ID number at the end. But if your Facebook page has a name and not a number, (i.e. PrivateInvestigatorNews) then grab the number by entering the page name in this utility.
Go back to the Google Reader Subscribe box and add the number to the end of the feed string. The PI buzz Facebook RSS looks like this: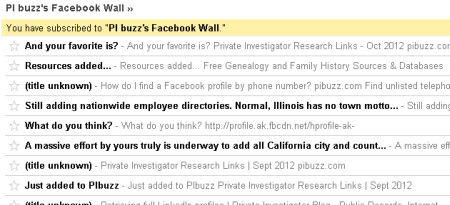 Then you can send the Facebook status update to your other sites using the "Send To" drop down menu below the post. First you have to add Twitter and LinkedIn as a choice, which you can do by going to your Reader settings. The Google+ option is automatically added to the selection bar.
Good, or great?
The rest of my favorite links are here.