Archive for the 'Missouri' Category
The Missouri Secretary of State now has a statewide Voter Information Lookup online. Enter the person's first and last name, county and street name. If you've correctly matched that personal information, you have to select the correct street address, as you can see in this image.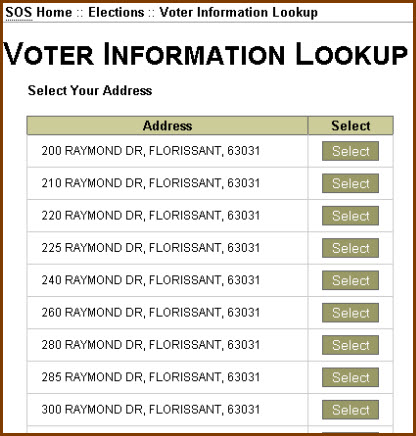 Then you'll get a confirmation that the person is registered to vote.

If you can rely on current voter registration status to verify where someone lives, then this could be useful.
Have you found that the voter registration lookup sites return valuable information?
Juror names and jury questionnaires are public records and subject to disclosure even if a trial judge has made promises to the contrary. At least in North Dakota. A ruling by that state's Supreme Court, cited by the Associated Press, rebuffed a trial court's claim that the records in one case were sealed out of fear that the jurors could be harassed.
"We conclude those reasons, by themselves, are insufficient to rebut the presumption of openness and to warrant a blanket closure in this case…"
Court rulings may seem like a bouncing ball when it comes to privacy, public records and electronic messaging. The 9th U.S. Circuit Court of Appeals in San Francisco has asserted that companies do not have an automatic right to access employees' text messages if the data is stored on outside servers. Read more about this decision and the significance for privacy and data management. Some other news stories on email access and public records can be found at WikiFOIA.
Maybe it's a trend in the refinement of the sex offender databases and regulation of where registered sex offenders can live.Tennessee has joined Indiana (see this court ruling on the Indiana law), Missouri, Kentucky and Alaska requiring registered sex offenders submit their email addresses, which are being added to those state online databases. States can't keep track of the physical location of registrants so the email address disclosure may not be of much value to public safety.
I was setting out to write about state lookup and registration of "Do Not Call" and "No Call" phone numbers. More on this in a moment. I'm diverging to mention a few voter registration lookup links. The Federal Voting Assistance Program, U.S. Department of Defense collects links to State Voter Registration Verification Web sites. The participating states provide this service for residents to confirm their voter registration status. The sites may variously require a name, date of birth, street number or address to verify whether the individual is registered to vote.
A few non governmental sites that collect links to public records have a category dedicated to voter records. Black Book Online has 63 links to city, county or state government voter registration lookup. Search Systems has some additional links, but there are variations in both collections. And neither has Southington, Connecticut Voter Registration Lookup included. Imagine that! Read my prior posts on voter registration verification.
Okay, on to Do-Not-Call phone lookup sites. The Tennessee Do-Not-Call Citizen Registration Lookup returns a street number match to the provided telephone number. The Missouri Registration Lookup for No Call List verifies whether a phone number is on the list and the date it was registered.
Do you know of other voter confirmation or Do-Not-Call registration sites?
The County of Santa Clara released a document listing the salaries of county employees in response to a Public Records Act request by the San Jose Mercury News. At any other time they probably wouldn't have considered this a public record, but the recent California Supreme Court decision doesn't leave an opening for government agencies to oppose release. The 389 page document covers Santa Clara County employees from June 19, 2006 through June 17, 2007.
The City of San Jose employee salary database for 2006 is also at the San Jose Mercury (registration required), or you can print the list, organized by salary, at the PI buzz Documents page. Both lists include employee name, job position and compensation.
South Dakota state government employees salaries are searchable by name or position. SouthDakotaInfo, the Argus Leader Web page of information databases, is listed among the media collections on my What's New At… page, as is an expanded list of Missouri databases.
Add other resources to the California public records database links, PRA letter generator and government agencies that are being compiled at WikiFOIA. Other states are also here. If you want a good collection of all types of government databases go to the wiki, GODORT. Like any wiki, you can register and contribute sites to either of these.
The Missouri Attorney General has unveiled a database of filed consumer complaints that can be searched by company name or partial name.The database includes more than 100,000 complaints filed since January 1, 2004. View the complaint number, type of complaint, the number of complaints and the date filed. The site does not provide any information on whether the complaint was pursued by the Attorney General or what the result of any investigation might have been.
The Tennessee Sexual Offender Registry has been expanded to include mapping and photographs of all offenders, and more offenders than were previously on the Web site. Registry of sex offenders expanding, Chattanooga Times Free Press, July 27, 2007.
In advance of any state law, the Rockland County, New York Clerk has installed software that will remove Social Security numbers from the online version of recorded documents. According to this article, New York state tax liens now use a different number than the Social Security number on documents.
A bill signed by the governor of North Carolina will marginally facilitate the reconnection of birth parents and the children they relinquished for adoption. If both parties agree, the adoption placement services will act as confidential intermediaries, providing the birth parents and adult children with each other's contact information.