Archive for the 'Public Records' Category
If enacted as proposed, a provision in the federal 2014 Budget would eliminate most public access to the Death Master File, also known as the Social Security Death Index (SSDI). The United States Department of the Treasury is recommending a significant change to the SSDI that would "restrict immediate access to the DMF to those users who legitimately need the information for fraud prevention purposes and to delay the release of the DMF for three years to all other users."
The full but short Treasury proposal (page 203):
RESTRICT ACCESS TO THE DEATH MASTER FILE (DMF)

Current Law

The DMF is a list of deceased individuals maintained by the Social Security Administration (SSA) that is updated weekly. SSA created the DMF in response to a 1980 consent judgment that requires SSA to provide certain personally identifiable information about deceased individuals under the Freedom of Information Act. The DMF contains the full name, Social Security number (SSN), date of birth, date of death, and the county, state, and zip code of the last address on record for decedents. This information is publicly available and, pursuant to the consent judgment, released weekly by SSA, and many websites publish the information included on the DMF free or for a nominal fee.

Some DMF users need immediate access to the DMF for fraud prevention purposes, such as pension administrators who use DMF data to terminate payments. Others use the information for purposes that are not time -sensitive, such as genealogy research. A third group, however, uses the DMF for illegitimate purposes, including identity thieves who use the DMF to steal the names and SSNs of recent decedents, which information identity thieves then use to file fraudulent tax returns.

Reasons for Change

Refund-fraud related identity theft has grown exponentially in recent years. Fraudulent tax returns using a decedent's identifying information are difficult to detect before improper refunds are paid, because the Internal Revenue Service may not discover that identity theft has occurred until a surviving family member files an income tax return claiming the decedent as a dependent or files the decedent's final income tax return.

Restricting immediate access to those users with a legitimate fraud prevention purpose while delaying the release for other users protects the privacy interests of decedents, reduces opportunities for identity theft, and restricts information sources used to file fraudulent tax returns while still making the information on the DMF available to users who have a legitimate need for the information.

Proposal

The proposal would restrict immediate access to the DMF to those users who legitimately need the information for fraud prevention purposes and to delay the release of the DMF for three years to all other users.

The proposal would be effective upon enactment.
Will you "Like" it, if you don't and share it with your social networks?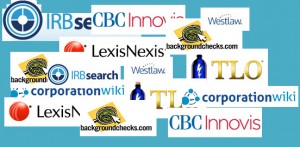 Did you know that a "comprehensive" or "people search" profile that aggregates public records does not return all available records, even if that record is in the database? Let's look at Secretary of State corporation records that are sold by professional database companies.
You obtain a profile report on an individual that incorporates criminal records, court judgments, real property owned, corporations in which they are an officer and other public records. You notice that a corporation that should be there isn't. (This has to happen only once for you to be reminded that the proprietary databases are just a starting point!)
Here are some corporation data finding hints:
- An aggregated comprehensive report on an individual will not return all the corporations in which the subject is an officer, just those linked to addresses in her or his credit header.
- You must search within the corporation database to get the most corporate records that the provider has obtained with the subject's name as an officer, regardless of address.
- Corporation databases are not current. I mean, in some cases, really not current, and the coverage dates vary from state to state and from one database provider to another. Ask your service to provide you the frequency of their updates (if they will). Westlaw updates weekly or monthly, except for Delaware and West Virginia. LexisNexis may have more historical filings.
- TLO and Accurint, for example, do not return the same results searching by company name (i.e. "Mark Capital" – one service could return a list that includes "Mark Capital Strategies" and the other with that plus "Mark Capital Investors" and "Mark Capital Investors II", etc.)
- There is great variability from state to state in the fields of data indexed. Some states only provide Agent for Service -Delaware, is a significant one since many corporations are registered here- and not other officers or Directors.
- Databases have errors. Your subject's name could be misspelled or abbreviated.
What's a due diligence researcher to do?
- Check online Secretary of State corporate entity databases. Some are searchable by officer name. And the records here are likely more current than those in the proprietary services. Find the free government sites through this public records directory. However, the online corporation indexes are limited too; many do not list all categories of officers.
- Search the online Secretary of State site in states where the individual might have their business operation, not just where they live.
- The Delaware corporate records only include an Agent for Service, which isn't very helpful since most of the registrants don't conduct business or live in Delaware. Your subject company may have registrations in multiple states and those may list officer names.
- Identify names and addresses of all possible business partners and search those in the aggregated corporation databases and the online SOS sites.
- Call the SOS. They may have search flexibility beyond the functionality of their website.
- Conduct a web search for the subject with other identifiers that are likely to lead to unknown corporate names. Try this free site that searches multiple states and shows some of these linkages (Search officer name from Google using the site: command.).
What are your corporation database discoveries?
TLO now owns Merlindata through the acquisition of another company that had recently purchased the public records data provider, in business since 1991 and much relied on by California private investigators.
Merlindata customers will now become TLO customers with access to the same data, albeit with a different interface and website. The California public records from Merlindata are not integrated into the people search and comprehensive reports in TLO but are a stand-alone product that incurs per-search fees on par with the other TLO offerings.
Merlindata customers who have an annual fee contract can continue on the same terms with a new TLO negotiated contract, but they will be charged monthly, not annually, as subscribers to Merlindata were.
TLO doesn't offer an unlimited search option for access to their menu of searches. TLO's "flaterate" is a reduced cost on the transactional fee. This reduced cost is available for accounts with at least 200 searches per month. In this arrangement, the subscriber might pay $.60 for each search rather than $1.00. The "flaterate" contract includes the TLO data and the newly acquired Merlindata California databases. However, they are not integrated and must be separately searched.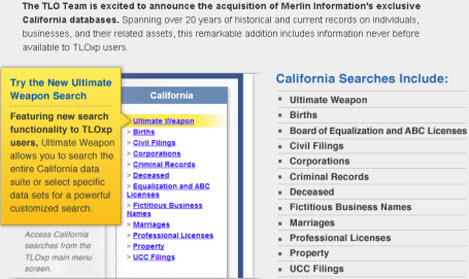 The Merlindata site now directs subscribers to transfer their account to TLO or to open an account if they're not already a Merlin user.
IRBSearch, a reseller of the LexisNexis Accurint data, which is very similar to TLO's, has undoubtedly taken a financial hit due to the low-cost pricing of TLO. This is the new favorite among private investigators. Hopefully that won't lull investigators into relying on one online public records data source — which may become difficult to avoid if other companies' products are out of reach because of pricing or restricted access to private investigators.
Have you had the experience of searching an online court or Recorder index and getting a false negative? You know the name is there but it isn't returned in your search results. Worse yet, you don't know whether the record is there and assume it's not because the site returned "no result."
I was searching multiple names at the Alameda County Recorder Real Property index and found that results were returned only when the first name listed in a document was searched, but not the second name, even when that name was listed in the index. This only applies to shared last names, I believe.
I queried the name "Bennett, Lyle", which returned a record in which that name was listed first. The index record for the document shows a second name, "Bennett, Doris."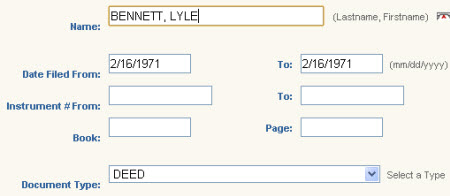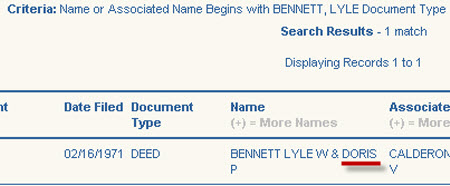 I searched the index for "Bennett, Doris" and received a "no record" message.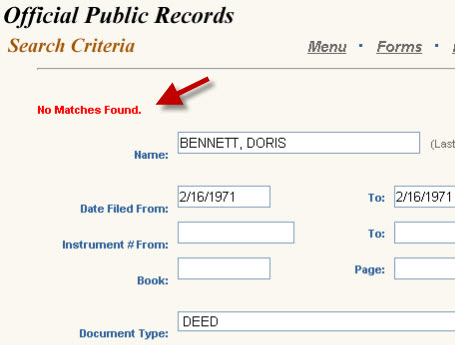 I'm sure the Recorder would like to hear from you about this glitch. I contacted the provider of the software and received an email directing me to resolve the problem with the Recorder.
What's your experience searching online records?
Is the ease of researching personal information records online by the public facing a backlash? Courts, legislatures and regulatory agencies are grappling with (or just reacting to) challenges to transparent government that threaten public access to police calls for service, online court records and the Death Master Index (SSDI) — all historically public records. Legislatures are floating proposals to restrict employers consideration of criminal history records in assessing job candidates.
The extensive digitization of government records has enabled greater aggregation and cross-referencing of personal information in public record databases and eased access to electronically stored government documents – upending the "practical obscurity" that paper-only records provided. Academic papers are examining the tension between demands for open government and the expectation of privacy. Government officials and politicians are paying attention to the authors' proposals. Read "Assessing public information in the digital age" for a short summary of some of the issues and for links to those studies.
The conundrum for employers vetting potential hires within the restrictions of the law and the expectation of privacy is addressed in "Negligent Hiring and the Information Age: How State Legislatures Can Save Employers From Inevitable Liability". As the review of a potential hire's Internet activity has become more pervasive, the legal liability of "googling," or not, creates due diligence conflicts that may have to be addressed by state legislatures.
A recent social science study, The Digital Scarlet Letter: The Effect of Online Criminal Records on Crime concludes that access to criminal histories on the Internet has contributed to increased recidivism. This supports the widespread movement to expunge criminal histories and restrict employers' use of them in evaluating job candidates. Not only court records are expunged but private database aggregators remove records when they are notified of expungement orders.
And the Equal Employment Opportunity Commission Guidance on Arrest and Conviction Records in Employment Decisions under Title VII of the Civil Rights Act of 1964 asserts that employers should consider criminal offenses only as they pertain to the specific job.
As court indexes have become available in an electronic form and migrated to the Internet, the terms of access have faced more scrutiny. A recent decision by the Executive Director of the San Luis Obispo Superior Court to remove the public access computer terminal to the criminal index signals that the ease of electronic delivery of public records may be curtailed. In other instances, search fees make extensive online searching cost prohibitive, as in the $10 per-name charge applied by the Alabama statewide court, plus an additional $10 for each docket.
More is possible but that doesn't mean it's certain.
Government agencies, financial lenders, family history researchers and private investigators all have an interest in verifying whether a person has died, where and the circumstances. Here are some free resources to get you started with your search:
- Free Genealogy and Family History Sources & Databases is a page of resources I'm still building but it has links to a variety of sites for finding and verifying a death. It includes area specific and aggregated sources for death indexes, newspaper obituaries and death notices, cemeteries and the Death Master File aka Social Security Death Index.
- County Vital Records of deaths may be indexed online. Notices of deaths are sometimes buried(!) in county or town year-end reports.
- Deaths can be searched onsite at the county vital records recorder. If you don't have the exact spelling you may be able to Wildcard your
county public record searches.
- Directories of Public Records online supplement your search with direct links to burials and deaths indexed by states, counties and private entities. All directories are incomplete. Even though this is a good one, you'll find additional death indexes on my page, Free Genealogy and Family History Sources & Databases, that aren't here.
- Search newspapers directly through their sites but also through the aggregated news site Google News and News Archive for mentions of your subject, which may identify where they lived, if not provide an obituary. Recorded deaths that are not at the government website of vital records may be in Newspaper databases of public records.
- Find the burial sites of military veterans and their spouses in the National Gravesite Locator .
- State government divisions of the Secretary of State, the state library and the state archive have digitized records. The documents and indexes that aren't online are available for free at the agency repository. Often, the catalog of holdings is at the website.
- The New Orleans Public Library, Guide To Genealogical Materials details the various entities that have collected death and burial records and where they can be researched, which will guide you to types of sources you can find in Louisiana and other states.
- Search in various search engines using variations of the subject's name: [First name Middle name Last name], [First name Middle initial Last name], [Last name First name Middle name]. Search names of relatives. Search birth names and married names. Add a city where they last lived or where they grew up or other identifiers, such as a business name.